About Hockett Tax Resolution
The Team at Hockett Tax are Your Local IRS Relief Specialists!
Hockett Tax Resolution is your experienced Phoneix area tax relief professionals committed to providing exceptional tax resolution services to individuals and businesses.
Our aim is to help our clients navigate through the complexities of tax issues, leveraging our expertise and experience to provide the best possible outcomes.
We understand the stress and uncertainty that tax problems can cause. Whether it's back taxes, penalties, audits, or other tax-related concerns, we strive to relieve these pressures by offering comprehensive solutions tailored to each client's unique situation.
We're prepared to tackle tax problems from all angles, ensuring a thorough and comprehensive resolution.
We firmly believe that everyone deserves fair representation when dealing with tax matters, and it's our mission to protect the rights of taxpayers and to make the tax resolution process as seamless as possible.
Celebrating
30 Years of Solving Tax Problems
Jeff Hockett, EA – Founder
Meet Jeff Hockett, the owner of Hockett Tax. Diving into the intricate world of taxes in 1993, Jeff has since cultivated an unmatched expertise, making him the first call for those navigating complex tax challenges.
As an Enrolled Agent (EA), Jeff has helped countless individuals and businesses get back on track with the IRS and state of Arizona. If you are struggling with a tax problem, Jeff is the steady hand you need by your side.
Jeff is a member of both the National Association of Tax Professionals (NATP) and the American Society of Tax Problem Solvers (ASTPS), and he's particularly passionate about helping those entangled with IRS challenges.
So, if you're facing an IRS issue and feel lost in the maze, let Jeff be your guiding light. With a legacy of trust, expertise, and genuine care, you couldn't be in safer hands.
Author of The Tax Game Strategy: How to Legally Leverage the Tax Code and Put More Money in Your Pocket
Host of the More Money in Your Pocket Podcast
Recent Professional Trainings:
When a tax resolution professional attends industry conferences, they are investing their time to make sure they are current on the latest innovative IRS problem-solving techniques.
Attending these conferences is critical in ensuring that your tax resolution expert is well-equipped to navigate complex tax issues. Frankly, this is a commitment that not every tax professional is willing to make in the area of IRS representation.
Taxpayer Representation Super Conference 2023
IRS Tax Audit Masterclass 2023
ASTPS Summer Conference 2023
ASTPS Spring Conference 2023
ASTPS Winter Conference 2023
ASTPS Tax Resolution Accelerator 2022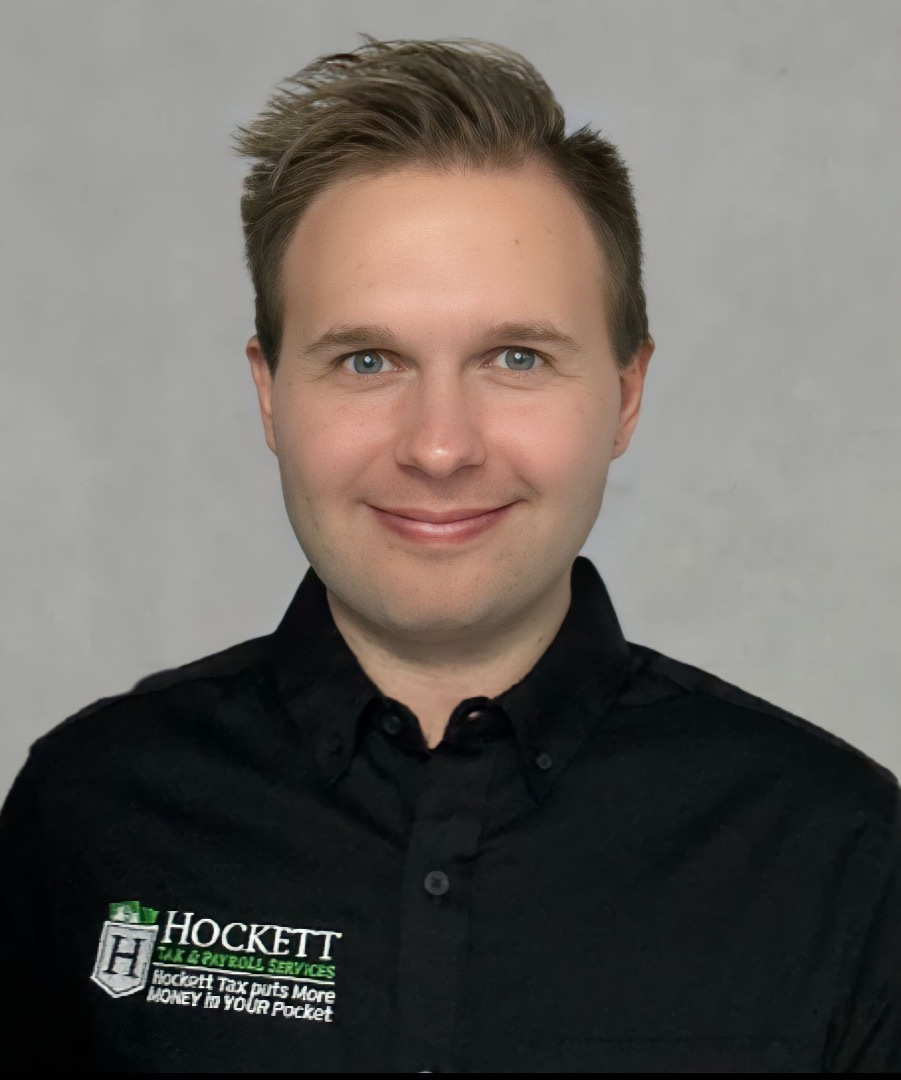 Justin Hockett
Justin Hockett is a co-owner, Tax Professional, and Certified Bookkeeper here at Hockett Tax Resolution. He Joined the team in 2015, and dived deep into tax preparation in 2020, swiftly building a reputation for his meticulous approach and client-centric services.
Justin is currently furthering his education to become an Enrolled Agent, a testament to his dedication to offering top-notch services to clients. He is a member of the national organizations NATP and ASTPS and is committed to staying updated in the ever-evolving tax landscape.
Justin's expertise shines brightly when it comes to personal tax returns, adept management of Quickbooks, and overseeing administrative intricacies. And did you know? Before joining forces with his father, Jeff, at Hockett Tax, Justin honed his exceptional client service skills as the front desk manager of a prestigious Four Diamond Resort in Scottsdale.
So, if you're seeking someone who seamlessly blends modern tax strategies with an unwavering commitment to client satisfaction, Justin is your go-to. With a foundation in hospitality and a passion for numbers, you can trust Justin to help navigate your financial path with ease and precision.
What is an Enrolled Agent?
An IRS Enrolled Agent (EA) is a federally authorized tax practitioner empowered by the U.S. Department of the Treasury to represent taxpayers before the Internal Revenue Service (IRS). EAs have expertise in the field of taxation and are trained to understand the complexities of the U.S. tax code.
They are one of three groups of professionals that have what's known as "unlimited representation rights," meaning they can represent their clients on any matters including audits, payment/collection issues, and appeals (CPAs and Attorneys are the other two).
To become an EA, a candidate must either pass a comprehensive three-part exam that covers all aspects of federal tax law and must complete continuing education courses regularly to maintain their designation.
We promise to treat each client as an individual, providing personalized and attentive service. You are not a number to us - we take the time to understand your unique situation and provide solutions that meet your specific needs.
We promise to advocate for your rights as a taxpayer. We'll work diligently to ensure that you're treated fairly by the tax authorities and that you receive the best possible resolution to your tax issues.
Sometimes tax problems can take a while to solve. We will stay in regular communication with you about your case for it's entire duration!
Start Your Tax Resolution Journey
Start Your Tax Resolution Journey with Jeff Hockett, EA
Fill in the form below and we'll contact you to schedule a free case evaluation! During the evaluation we'll discuss your specific situation and create an action plan to end your tax problem!