Local Phoenix Tax Relief Experts
Tax problem? Get help from your local Phoenix tax relief experts! 
Navigating the world of taxes can sometimes feel like being lost in a maze – confusing, overwhelming, and fraught with pitfalls.
You may be facing a stack of unfiled tax returns, a notice of a tax lien or levy, or you may be wrestling with back taxes that seem to grow larger with each passing day. You're not alone. Many people grapple with similar issues, feeling the weight of these problems growing heavier over time.
It's crucial to remember that tax problems aren't unsolvable riddles; rather, they're challenges that can be overcome.
Whether you're an individual trying to make sense of your personal tax obligations or a business owner grappling with the complexities of payroll taxes and deductions, there is a way forward.
With the right advice, resources, and, in many cases, professional help, you can resolve your tax problems and regain your peace of mind.
We understand that this can be a stressful time, but keep in mind that the sooner you address the issue, the quicker you can resolve it and alleviate the stress it's causing.
Hockett Tax are your local Phoenix tax relief experts and we want you to know that whatever your tax problem is, tax relief is possible.
On this page, we'll guide you through some common tax problems and potential solutions, with the goal of helping you find that path and begin your journey towards financial stability and tax compliance.
"Jeff and his team are incredibly efficient, responsive, and professional. They take the time to explain and educate. I would highly recommend them to anyone."
David M. | Arizona
"Very responsive and excellent service."
Jeannette S. | Arizona
"Talk to Jeff about getting your taxes done, he makes it very easy and he is very responsive to questions."
Terry H. | Arizona
"Straight forward, no BS, and knows numbers – Highly recommend!"
Mike R. | Arizona
Unlike most other Phoenix tax firms we specialize in Tax Relief.
You're not hiring someone who occasionally dabbles in this area of practice. You're hiring the local phoenix tax relief experts specially trained and up to date on all the latest tax relief strategies. We are fully prepared to achieve the best result for you.
If you were going through a divorce would you hire a bankruptcy attorney? Of course not, it's a different specialty! Don't trust just any accountant to help with a tax problem.
Once you become our client you won't have to speak to the IRS anymore. If they want information or to talk to you they will have to go through us. During the investigation phase we will be gathering information, pulling transcripts, and finding out what the IRS knows about you.
Once all the details are in place we will set up another meeting to go over your resolution options. Keep in mind you may not qualify for every program, and most often we're not able to tell you which program you will qualify for in the first meeting.
Federal Tax Liens (FTL)
Federal tax liens may be filed against you, your spouse, or your company depending on how the tax liability was incurred. When an  FTL is filed everything you own is in jeopardy of being taken by the government.
Unfiled Returns
Having unfiled returns is one of the most common tax problems. It doesn't take much in life for tax returns to not be a priority. This is something you'll want to address quickly; failing to file your tax returns is ultimately a criminal offense. If you do not file, you can be prosecuted and punished, possibly with jail time.
Bank Levy
A levy is the IRS's way of getting your money and your immediate attention. What they are saying is, "We have tried to communicate with you, but you have ignored us. If you own it, we can take it." That includes bank accounts, autos, stocks, bonds, boats, pension checks, paychecks, and even Social Security checks!
Wage Garnishments
As bad as a bank levy is, a worse problem is a wage levy (or garnishment). That is when most of your paycheck goes to the IRS or State, which can often leave you barely enough to pay the bills. This can also be embaressing as they will send the request directly to your employer.
Payroll Tax Problems
One of the most serious tax problems is the failure to collect, account for, and pay to the government any payroll taxes that were, or should have been, withheld from employees. These are referred to as "trust funds" and are vigorously collected using the most aggressive tools available to the government.
Seizures of Assets
The last resort in most cases is the taking of physical assets, such as your home, car, or boat. Seizures happen in aggravated cases when someone ignores repeated requests by the IRS over a long period. This is one of the most powerful tools in the IRS arsenal.
Offer In Compromise (OIC)
The idea of the Offer in Compromise program is to give you a fresh start with the IRS. The OIC is one of the best tools in the tax relief toolbox! It allows you to pay an amount you can afford regardless of the amount you owe. Once your offer is complete you are back in the good graces of the IRS!
Installment Agreement
Installment Agreements are one of the most common tax resolution solutions. This is where you can get more time to pay the tax you owe by setting up monthly payments. Having an installment agreement in place will ensure that the IRS does not proceed with any furthur collection actions like liens or levies.
Penalty Abatement
How does the IRS expect you to pay what you owe when they keep adding penalties and interest? I'm happy to tell you that in some cases it is actually possible to get some of those penalties reduced or removed all together.
Audit Representation
Nothing strikes fear more than receiving an IRS or State Audit letter in the mail. Audit Specialists are trained to get information out of taxpayers that's why it's important to find a qualified representitive to help you through the process.
Innocent Spouse Relief
Did you know that it's possible to get relief from tax debt problems created by your spouse? Innocent Spouse Relief exists to clear up situations where one spouse is clearly not responsible for the tax liability created by their spouse or former spouse.
Bankruptcy
Contrary to what you may have heard, taxes can be dischargeable in bankruptcy. Back taxes, interest, and penalties may be erased. Bankruptcy is often a last resort, but in certain cases can be the best option. I am not an attorney but I have relationships with local attorneys who specialize in bankruptcy law.
Work with a Local Phoenix Tax Relief Firm – Avoid National Companies
Working with a Local Phoenix Tax Relief Firm when faced with tax issues offers a few significant benefits that national companies often cannot match.
#1 – When you work with a local Phoenix Tax Relief Firm, you're more than just a case number; you're a valued client. The personalized service you receive can make the often stressful process of resolving tax issues much more manageable. Plus if a national firm stops returning your calls do you plan on flying across the country to confront them?
#2 – You'll be dealing with a licensed tax pro at Hockett Tax, not a salesperson. When you call a big national firm you'll likely begin by talking to a salesperson who may or may not be familiar with the intricacies of the IRS collections process. They can be tempted to tell a vulnerable person what they want to hear in order to make the sale and make promises the tax pro down the line cannot keep.
#3 – Believe it or not, it's often less expensive to deal with a local Phoenix tax relief professional. National firms spend hundreds of thousands of dollars a month on advertising and need to charge huge fees to keep the business running. Local firms like Hockett Tax can make it much more affordable to get your problem resolved.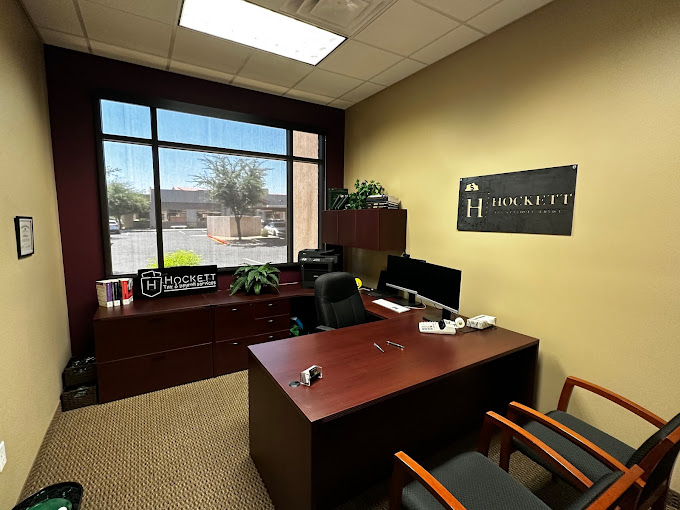 Start Your Tax Resolution Journey
Start Your Tax Resolution Journey with Jeff Hockett, EA
Fill in the form below and we'll contact you to schedule a free case evaluation! During the evaluation we'll discuss your specific situation and create an action plan to end your tax problem!